The Golden Gathering!
An exciting three-day festival of street entertainment, indoor events, music, dance, craft, dialect and heritage – held the weekend after Easter in Northumberland's historic county town of Morpeth, 14 miles north of Newcastle upon Tyne. With a special milestone Golden theme marking 50 years of traditional fun plus events for St George's Day and Shakespeare's birthday.
---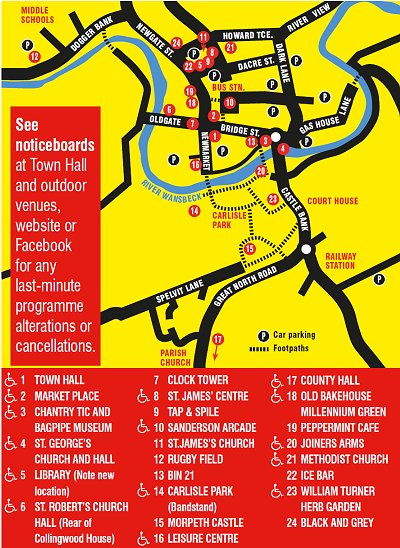 All details subject to change - see noticeboards at the Town Hall and around the town, Gathering website, Facebook or Twitter for any last minute cancellations or alterations.
During the weekend entertainers will visit cafés, pubs and care homes. Look out for shop window displays and costumed characters.
Ticket prices and door charges:
If 2 prices are given, 2nd is unwaged rate; any 3rd price is for school-age child; under 5s are free. Low cost events do not have tickets but are charged at door. At indoor free events donations are requested to help us meet rising costs.
M.N.G.Committee, part of Morpeth Antiquarian Society, Reg. Charity no. 507640, reserves the right to alter event details.

Tickets and accommodation Information are available from Morpeth Tourist Information Centre, The Chantry, Bridge Street, Morpeth, NE61 1PD. Tel: 01670 623455.
Tickets and programmes are also available during Gathering weekend at Town Hall Exhibition and other venues.
Patrons' Scheme - there are no weekend or family tickets, but you can receive discounts by becoming a Golden Patron. See website for application forms or ask at Exhibition.
Gathering Office - all competition, general and administrative queries on the Gathering, its fellow organisation the Northumbrian Language Society and mail-order details of the Gathering's new CD "Morpeth's Music": contact: 01670 513308.
Free Park and Ride - vintage buses (Saturday only, 9.00 am to 4.00 pm) will operate between County Hall and the town centre. Thanks to Northumberland County Council and NE Vintage Buses.
Beware of the hour-long road closure for the Pageant on Saturday morning!
First Aid – St John Ambulance will be located in the Newmarket car park behind the Town Hall on Saturday
---
Morpeth Northumbrian Gathering Committee is a standing committee of Morpeth Antiquarian Society (Reg. Charity No. 507640) and a member of the Association of Festival Organisers. MNGC reserves the right to alter programme details.

Morpeth Gathering is aided by individuals and organisations including in recent years: National Lottery through the Big Lottery Fund, Active Northumberland, Brumell & Sample, C Bradford, Catholic Women's League, Friends of Morpeth Museum, Friends of William Turner, D Girard, Greater Morpeth Development Trust, FH Hardy, D Hoblyn, J Homer, Landmark Trust, Longhorsley Parish Council, A MacDonald, Morpeth & District Chamber of Trade, Morpeth Antiquarian Society, Morpeth Art Group, Morpeth Boundary Ride Trustees, Morpeth Chantry Bagpipe Museum, Morpeth Clock Tower Bellringers, Morpeth Herald, Morpeth Lions, MorpethNet, Morpeth Rotary Club, Morpeth Town Council, Northumberland and Tyneside Orienteering, Northumberland County Council, Northumbrian Language Society, Northumbrian Pipers' Society, Old Bakehouse Millennium Green Trust, Pegswood Parish Council, Sanderson Arcade, Stait Photography, Stamfordham St Mary's Church, Stannington Art Group, R Stewart, A Swailes, C Telford, A Tebbutt, W Toy, J A Turnbull, Tyneside Fiddle Alliance, Ulgham Parish Council, Woodhorn Trust.

A full list of patrons and others will be displayed in the Crafts Exhibition.
---
FRIDAY 21st APRIL
9.30 am - 5.00 pm
Crafts Exhibition Refreshments; (craft entries received Thursday 20th April between 5.30 pm and 7pm). Displays/ stalls including needlecrafts, jewellery, shepherds' sticks, proggy mats, Northumbrian pipes. Photos, cards, books, CDs, t-shirts on sale Town Hall Corn Exchange - 60p/40p

10.00 am - 4.00 pm
Outdoor Entertainment and Stalls Hautbois (music for St George's weekend), Professor Grunermensch's Punch & Judy, Maximus the Centurion, Rent a Peasant, Lesley Bentham (costumes), Jim Grant (stories), Jim Eldon (music) Market Place – Free

10.00 am – 4.00 pm
Northumbrian Pipes: Play In a Day for adults (over 16) with Dave Shaw. Limited numbers – book in advance. Details and cost from Gathering Office Chantry Bagpipe Museum

10.00 am – 4.30 pm
Art Exhibition With Morpeth Art Group. Paintings, craft stalls, family activities Morpeth Leisure Centre Cafė - Free

10.00 am - 1.00 pm and 2.00 pm – 4 pm
Family Art Workshop morning: Make crowns, golden treasure, gadgies for Saturday's parade; afternoon: braiding Market Place Yurt – Free (donations towards materials)

10.00 am -11,00 am
Historic Dance Workshop With Elizabeth Lawson Town Hall Ballroom - £2/£1 at door

11.15 am – 12.15 pm
Clog Dance Workshop NE clog style with Lynette Eldon and Sue Jenkinson Town Hall Ballroom - £2/£1 at door

12.00 noon – 2.00 pm Young Musicians drop-In sessions. Try out Northumbrian pipes with Tom Fairfax or general music session led by Paul Knox (bring own refreshments) Bin 21 coffee lounge and upper lounge - Free

12.45 pm – 1.45 pm
Maypole Dance Workshop With Elizabeth Lawson Town Hall Ballroom - £2/£1 at door

2.00 pm
Official Opening of the Gathering by The Mayor of Morpeth, Councillor Andrew Tebbutt Town Hall Exhibition

2.15 pm - 3.15 pm
Breton Dance Workshop With Suzanne McGregor Town Hall Ballroom - £2/£1 at door

3.30 pm – 4.30 pm
Family Songs, Family Tunes Jim Eldon presents family fiddle tunes of the Pennock family of Goathland, plus Lynette Eldon with a clog step or two Town Hall Ballroom £2/£1 at door

4.30 pm – 5.30 pm
Northumbrian Pipers: The Real Facts Richard Heard and Friends with multi-media presentation on recent research into early local pipers Chantry Bagpipe Museum - £2/£1 at door

4.30 pm
Bedtime Tales With Taffy Thomas. Bring a teddy! Library - Free

6.00 pm
Story Session With Sedayne and Rapunzel. For all ages. Refreshments on sale Ice Bar – Free (donations)

7.30 pm
Golden Gala Concert With Bottle Bank Band, Bob Bolam, Tom Patterson and Dave Morton, Tyneside Fiddle Alliance, Pauline Page, David and Joe Oliver, Community Band Methodist Church - £10 adult/ £9 unwaged/ £5 school age

8.00 pm
Musicians' Session with Keith Besford, Alasdair Turnbull & friends Tap & Spile - Free (donations)
---
SATURDAY 22nd APRIL
(9.00 am – 4.00 pm Free Park & Ride between County Hall and bus station)

9.30 am - 6.00 pm
Crafts Exhibition details as Friday Town Hall

9.45 am - 10.45 am
Family Song Workshop With Jane Harland. Traditional singing games for children and parents/guardians of all ages St Robert's Church Hall - £2/£1 at door

9.45 am - 10.45 am
Song Writing Workshop Tom Patterson on telling stories of local heroes through song Town Hall Anteroom - £2/£1 at door

9.45 am – 10.30 am
Children's Stories with Jim Grant Library - Free

10.00 am - 3.15 pm
Art Exhibition details as Friday Leisure Centre Café

10.00 am - 3.30 pm
Outdoor Entertainment including Punch & Judy, dance teams, historic characters, musicians, Bell and Bullock street theatre, Mark Mark, York Waits, Robbie's Whistle Kist, Meze Mundo, Astral Circus (see sign boards for timetable including circus shows). Market Place, Park, Sanderson Arcade – Free

10.00 am – 3.00 pm
Storytellers' Garden with Jim Grant and Taffy Thomas Old Bakehouse Yard Millennium Green - Free

10.00 am – 3.00 pm
Tudor Times Living History, costumes, Tudor medicine, fun family archaeology activities with Rent a Peasant and Archaeosoup William Turner Herb Garden in Park - Free

10.00 am – 4.00 pm
Morpeth Castle Open Day Landmark Trust opens the gatehouse and grounds to the public. Living History displays and weaponry with Time Bandits, stories and music from Sedayne and Rapunzel plus Paul Martin Morpeth Castle, overlooking the Park - Free (donations welcome)

10.00 am - 10.45 am
Meet the Northumbrian Pipers A chance to hear our sweet-toned local instrument with members of the Northumbrian Pipers' Society Morpeth Chantry Bagpipe Museum – Free

10.00 am - 10.45 am
Clog Dance Workshop with Anne Walton. Bring flat hard-soled shoes Town Hall Ballroom - £2/£1

10.15 am
Ring o' Bells by Morpeth Clock Tower Bellringers. Clock Tower tours from 12.00 noon - Donations

11.00 am
Border Cavalcade and Community Pageant Led by Border piper, Lord Greystoke and soldiers return from 1388 Battle of Otterburn. Pageant of costumed groups, musicians, banners, Meze Mundo band, dance teams, performers. The parade is welcomed outside the Town Hall by the Morpeth Gadgy (Alex Swailes MBE portraying the Town Bailiff) and civic leaders.

During this time (10.30 - 11.45 am) the Market Place & town centre from Chantry roundabout to Manchester Street will be closed to traffic. Alternative route via Dark Lane, Stanley Terrace or Dacre Street, and Manchester Street.

12.00 noon
Musicians' Session details as Friday

12.00 – 1.30 pm
Young Musicians' Session With David Oliver. Bring own refreshments Bin 21 upper lounge - Free

12.00 noon - 3.00 pm
Singaround with Beeswing Joiners Arms – Donations

12.00 noon - 1.00 pm
Ned Corvan Ed Waugh on thje stories behind his new play on the Tyneside music hall star St Robert's Church Hall - £2


Saturday Afternoon Competitions: Passport ticket for entrants & audience £2.00/£1.50 includes free entry to Exhibition. Doors open 30 mins before times below to allow entrants to register.
12.00 noon Clog Dancing solo and groups Town Hall
1.30 pm Northumbrian Pipes and Other Bellows Pipes Bagpipe Museum
1.30 pm Speaking and Writing: dialect, stories, hoafies (tall tales) plus results of pre-Gathering competitions and recital of pre-judged dialect prose & poetry St Robert's Church Hall
2.00 pm Bands, Accordions, Fiddles, Other Instruments, Duets St. George's Church (ground floor)
3.30 pm Singing including groups Town Hall


12.30 pm - 1.20 pm
Morpeth Waites early music concert
St George's Church - £2/£1 at door

1.00 pm – 3.00 pm
Bird Box Workshop family woodcraft workshop Old Bakehouse Millennium Green - Free (pay for materials)

2.00 pm - 2.45 pm
Fairy Gold Britain's first Storytelling Laureate Taffy Thomas and musician Paul Knox with family tales featuring fairies St James' Centre - £2/£1 at door

3.00 pm – 4.30 pm
A Muckle Blethor Sid Calderbank and Northumbrian poets and writers host a get-together with dialect speakers from the Lakes, Lincs and Lancs to share words and stories St Robert's Church Hall - £2 or competition ticket

3.00 pm – 4.00 pm
Battle The Sealed Knot present an English Civil War skirmish re-enactment Park bandstand area - Free

4.00 pm – 5.30 pm
The York Waits and Dougie Pincock Early music and bagpiping from leading English and Scottish musicians Chantry Bagpipe Museum - £7.50/£6.50/£5


5.00 pm
Teatime Tales With Jim Grant. Refreshments on sale Peppermint Café - Free

5.30 pm – 7.00 pm
Young People's Music Session with Joey Oliver and friends Bin 21 Upper lounge - Free (donations)

6.30 pm - 8.45 pm
Winners' Concert Special guests Carolyn Robson with Andy May; 2016 winners including Raymond Reed, Edric Ellis, Don Clegg, Marilyn Framrose, Ian Dunsmoir, Colin Bradford, Ali Say, Rachael Hales and Robin Dunn. MC Alex Swailes MBE Town Hall Ballroom - £9/£8/£5

7.00 pm
Twilight Tales With Gathering storytellers. Bring a torch! Old Bakehouse Yard Millennium Green - Free

8.00 pm
Musicians' Session details as Friday

8.00 pm
Northumbrian Pipers' Session with Paul Knox Bin 21 upper lounge - Free (donations)

8.30 pm
Fire Eating Event Circus skills display with Astral Circus Market Place - Free

8.30 pm – 11.30 pm
Barn Dance with 422 (caller Joey Oliver) and guest artist spots. Bring own drinks; no stilettos! St George's Church Hall - £8/£6/£5
---
SUNDAY 23rd APRIL
9.30 am - 4.30 pm
Crafts Exhibition details as Friday Town Hall

9.30 am - 11.00 am
Orienteering Event (prize-giving by Mayor at 12 noon) Park - Free

10.00 am - 4.00 pm
Art Exhibition details as Friday Leisure Centre Café

10.00 am - 3.00 pm
Outdoor Entertainment and Stalls
Maypole, Punch and Judy, Maximus, Ellington Colliery Band, Astral Circus, Bell and Bullock, Mark Mark, Darlington Mummers (see sign boards for timetable including circus shows) Market Place and Park - Free

10.00 am – 3.00 pm
Tudor Times Living History, costumes, Tudor medicine, fun family archaeology activities with Rent a Peasant and Archaeosoup William Turner Herb Garden in Park - Free

10.00 am – 4.00 pm
Morpeth Castle Open Day Landmark Trust opens the gatehouse and grounds to the public. Living History displays and weaponry with Time Bandits, stories and music from Sedayne and Rapunzel plus Iain Gelston Morpeth Castle, overlooking the Park - Free (donations welcome)

10.00 am – 11.00 am
Rapper Dance Workshop Learn the NE pitman's sword dance with Newcastle Kingsmen. Bring flat hard-soled shoes Town Hall Ballroom - £2/£1

10.30 am
Church Service With Gathering performers including Taffy Thomas St George's UR Church - Donations

10.30 am – 12.30 pm
Tours of William Turner Herb Garden With the Friends of William Turner Herb Garden (Park) - Free

11.30 am – 12.45 pm
The King's Shilling Old English present songs and tales of the Redcoats in multi-media show Town Hall Ballroom - £2/£1 at door

12.00 noon - 2.00 pm
Musicians' Session details as Friday

1.00 pm – 3.00 pm
Tours of Council Chamber, Mayor's Parlour, civic silver and historic Morpeth artefacts. With former mayors Frank Harrington, Ian Hunter and Derek Thompson Town Hall - Free

1.30 pm - 3.15 pm
Family Concert with The Brothers Gillespie, Darlington Mummers, Wallace Calvert, James Tait, storytellers. MC Ann Wilkinson Town Hall Ballroom - £2 /£1 at door

3.00 pm – 4.00 pm
Battle The Sealed Knot present an English Civil War skirmish re-enactment Park bandstand area - Free

7.30 pm – 9.30 pm
Gowld A Gowpens Concert Werca's Folk choir and Alistair Anderson with his new band Northlands in the Gathering's finale concert – a double handful of musical riches
Methodist Church £10 adult/ £9 unwaged/ £5 school age